Today, June 30th, we honor the memorial of the First Martyrs of the Church of Rome. After a month filled with feasts and memorials of different martyred Christians, this memorial is a somber one - a day in which we can honor the lives of those before us and take courage by their sacrifice.
We recognize that a day may come when we might face persecution -- already our brothers and sisters around the world are suffering greatly -- and we pray to the saints for the steadfastness, bravery, and faith to accept our own cross.
Liturgy of Home: Celebrating the Saints with Kids
We usually honor memorials in simple ways -- by making the extra effort to go to daily Mass, by saying a special prayer at dinner, and by explaining to my children what the day is about.
As the years go on, I'll try to explain things in more depth but this is about Lily's (3 year old) level of understanding:
"Today we honor the people who died a long time ago, when the Church was brand new. A lot of people didn't like Christians and chose to hurt them very badly, so today is for remembering them and praying in a special way. Would you like to pray with me?"
Another thing I try to talk about when we are thinking about martyrdom is bravery. It's easy for children to understand bravery & heroism, so we can use that as a starting point when talking about the men and women who were so brave for the sake of Christ.
For Mamas
Today, may the intensity of the sacrifices of so many Christians be at the front of our minds. May this inspire and propel us to put things into an eternal perspective.
Instead of worrying or being anxious over little things, let us try to direct our thoughts to what is more important: salvation.
May the great sufferings of the martyrs & the great Joy of life in Christ encourage us to align our lives with the Gospel in whatever ways we need to -- maybe I should be spending less on coffee, less time worrying about how my blog looks, less time stressing over my kids' sleep schedules and having pity parties for myself (whoah, got really real there just now...) -- and more time thinking of others, caring for the little souls I've been entrusted with, strengthening my marriage, and praying for those who are currently facing persecution.
As we reflect on the first Christians of the Church of Rome who lost their lives for the sake of the Gospel, let us also be willing to do the same. We are all called to pick up our cross daily & follow Jesus -- whether that be choosing not to "treat yo'self" and instead help another, to face legal or social persecution, even to die for being a Christian -- whatever that may be, let us be brave and strong in Christ.
Resources for Today
AmericanCatholic.org puts together "Saint of the Day" summaries, also available in audio, that I love -- find today's here.
The Newman Connection also has a great summary of the memorial along with a practical takeaway:
"Wherever the Good News of Jesus was preached, it met the same opposition as Jesus did, and many of those who began to follow him shared his sufferings and death. Notice how no human force could stop the Spirit unleashed upon the world through the Christians? They only became stronger witnesses to the faith. Pope Clement I, third successor of St. Peter writes, "It was through envy and jealousy that the greatest and most upright pillars of the church were persecuted and struggled unto death… First of all, Peter whom because of unreasonable jealousy suffered not merely once or twice, but many times, and, having thus given his witness, went to the place of glory that he deserved. It was through jealousy and conflict that Paul showed the way to the prize for perseverance. He was put in chains seven times, sent into exile, and stoned; a herald both in the east and the west, he achieved a noble fame by his faith." We too, can follow the examples of the Great Saints that went before us, paving the way of our faith that has stood the many centuries of time. Don't forget to call upon the First Holy Martyrs of the Holy Roman Church on this their Feast Day – as they are always willing to help us, if only we call upon them for assistance. "
+ read the rest here.
And I quite love this infographic put together by Alessandro Lerin of HolyArt.com --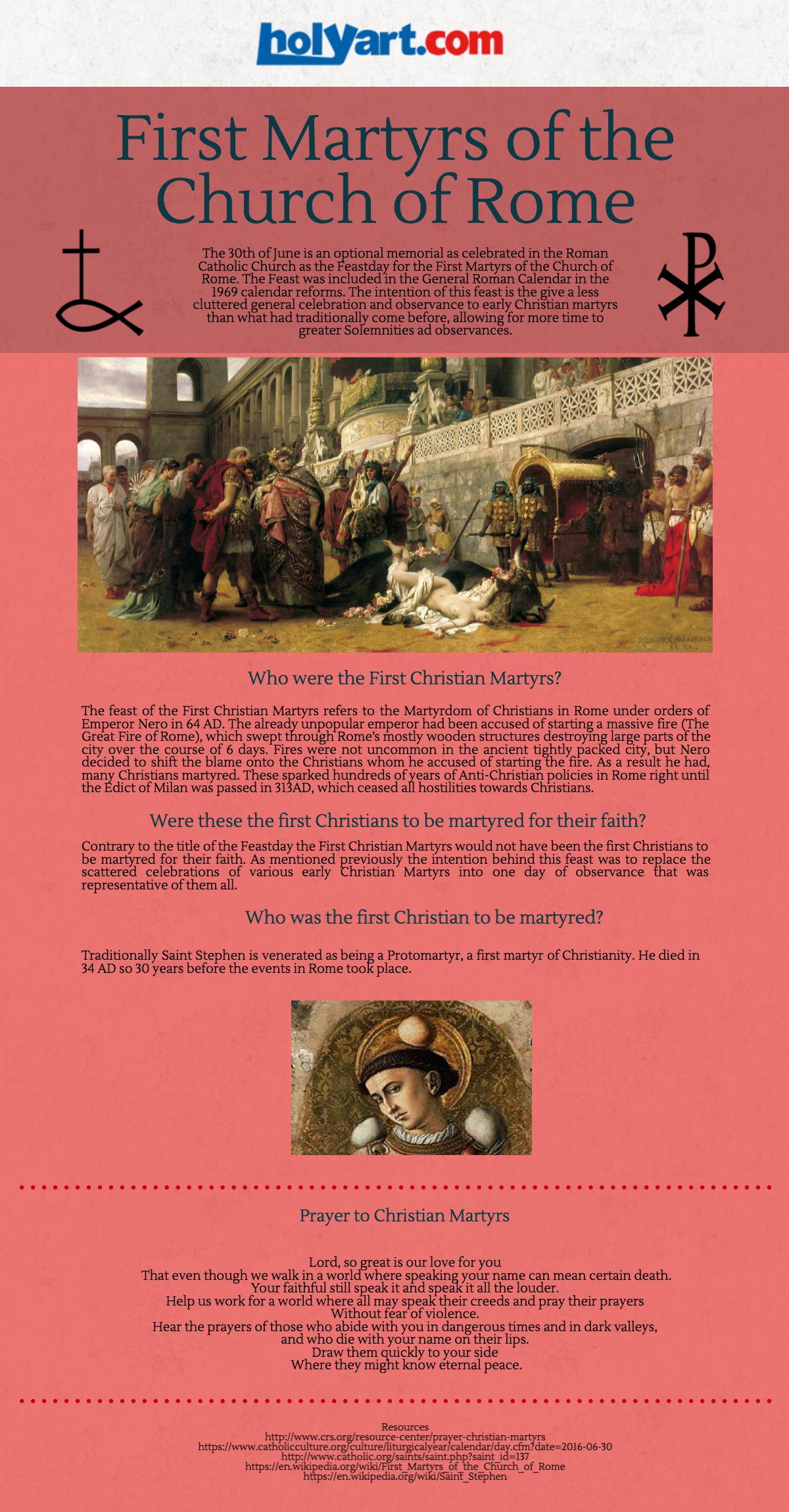 While We're On the Subject, You Might Also Like...
How are you planning to honor this memorial today?
Disclaimer of the year: This is meant to be an encouraging way to walk in step with the Church (not to be a burden!). If you are feeling stressed out over any of this, take a step back and discern which feasts to celebrate -- if any.